SKM Mobile App & MySKM Cloud Subscription

SKM Mobile App (iOS and Android)
The SKM Mobile app provides an intuitive experience that lets you collect field data, review study results, and share projects with others wherever you are in the palm of your hands. Use SKM Mobile app on your mobile or tablet devices! The SKM Mobile app is available for iOS and Android devices and can be purchased from their respective stores. Search for "SKM Mobile" in the Apple or Google Play Stores.
Download the Overview brochure here.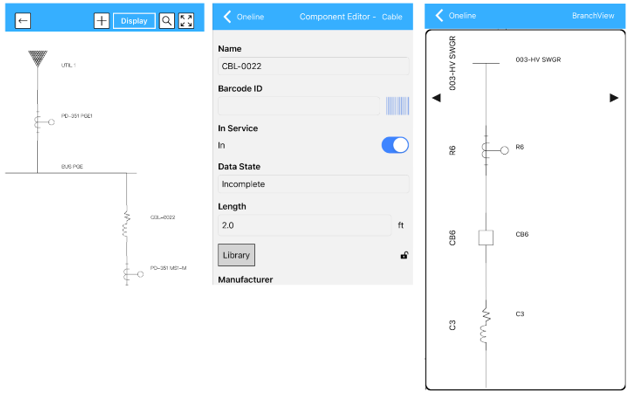 The app allows engineers to create new projects from the field and upload them to their MySKM account – to be later imported into the PTW desktop program in order to perform power analysis studies. Engineers can also view & edit PTW projects modeled on the desktop program on the mobile app.
Users may view equipment settings & specifications along with study results such as arc flash incident energies and PPE clothing.

MySKM Cloud Subscription
The SKM Mobile app works in hand-in-hand with a MySKM Cloud subscription. Mobile app projects can be uploaded to your MySKM account. Once there, it can be imported into the SKM PTW desktop software to conduct various power system analysis.
SKM PTW desktop projects can also be uploaded to MySKM Cloud to be imported into the SKM Mobile app. This will allow field engineers to verify equipment settings and study results, such as available short circuit results, incident energy, required PPE selection, and more!
Benefits of SKM Mobile App + MySKM Cloud Subscription:
Transfer field data directly to SKM without having to write anything down on paper.

Take pictures, videos, audio, scribble notes and save with each equipment.
Download mobile projects into SKM software to update existing components or add new equipment.
Upload SKM projects to the mobile app for field engineers to view study results.
Scan QR equipment codes to quickly locate the component on the mobile app to view equipment details and study results.
View entire power system one-line while in the field in the palm of your hands!
Licensing Notes:
To have full functionality of the SKM Mobile app, users must subscribe to a MySKM Cloud subscription.
Without a MySKM Cloud subscription, SKM Mobile app users will only be able to create and modify new projects that they create on the app. This is useful for field engineers that need to perform asset management and auditing and do not need to share project data. Users will not be able to upload mobile app projects to be used in the PTW desktop software. Users will also not be able to download PTW desktop projects into the SKM Mobile app to view equipment data or study results.

MySKM Cloud subscription requires annual renewal. All project data uploaded to a MySKM Cloud account will be permanently deleted if the subscription is not renewed.
MySKM Cloud subscription accounts are not transferrable and cannot be shared with other individuals.
Frequently Asked Questions:
https://support.skm.com/KB/View/262022-mobile-app-myskm-cloud-frequently-asked-questions